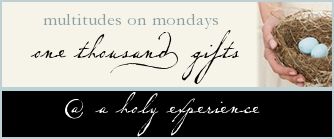 I'm starting late, but I know that I have well more than a thousand things to be thankful for. Some things come to mind so easily so I hope I don't repeat any of them. :)
1. A new life in Christ! Many of you may not notice the difference in me, but I know the reason behind why I do many of the things I do is changed because of HIM! Before I would do things to get the credit for myself, now (most of the time) I do them to glorify my Creator, the one who knows every hair on my head and who has the perfect plan for me! He created me to worship Him so that is what I aim to do!
2. A husband who loves God and his family.
3. A husband who is responsible and supports our family so that I can stay home w/ our daughter.
4. A loving little 2 year old daughter who is curious about everything.
5. A mom who listens to me go on and on about my day and provides advice
6. A dad who is there when I need him.
7. A younger sister who makes me smile and often acts like the older one. :)
8. A younger brother who is so talented
9. A much younger brother who amazes me every time I spend time w/ him
10. Step parents who love my parents.